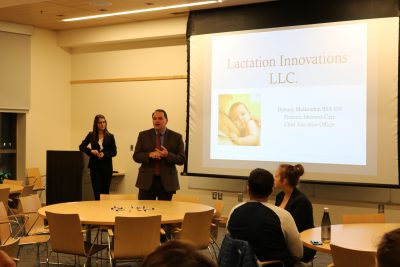 On November 7, UConn First Year Programs & Learning Communities welcomed Nerac's "XcellR8" members to their first collaborative meeting in the NextGen Forum. XcellR8 events are designed to allow an innovate entrepreneur the opportunity to pitch their idea or start-up company to an audience and receive feedback, ideas and recommendations from them. Kevin Bouley, Nerac's President and the founder of XcellR8, approached FYP&LC about partnering with Learning Communities to sponsor the meetings by inviting students into the audience to talk and network with entrepreneurs, angel investors and industry experts. Students who attended also got to see a former UConn Nursing student putting involvement, projects and opportunities initiated during her tenure at UConn into professional practice post-graduation.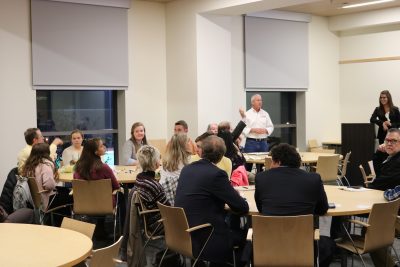 Co-sponsored by the Engineering, Nursing and Public Health Houses, UConn Learning Community faculty, staff and students were invited to this inaugural meeting with Brittany Molkenthin BSN '17, CEO of Lactation Innovations, LLC. Her presentation to the audience focused around "Lactibib," a new product which accurately measures the amount of breastmilk taken in by a newborn during feedings, thus helping to alleviate a mother's stress about whether or not her baby is receiving enough nourishment. The event saw a room full of students, faculty, staff and XcellR8 members sitting amongst each other to participate in this exciting event.
Nerac and FYP&LC will host XcellR8 events with other presenters throughout the academic year.
---